FBI Disavows Internal Memo Warning Against 'Radical Traditionalist Catholic Ideology'
The FBI's national office on Thursday repudiated a reported internal memo that warned about a connection between so-called "radical-traditionalist Catholics" and "racially or ethnically motivated violent extremists."


The Untouchables: The Two-Tiered Justice System
Here in the United States ghostly people are moving the nation in a direction no one voted for, and no one wants. Our nation is gradually being dissolved, transformed into a third-world country. The economy is dead in the water. The dollar is about to die.


Today's Edition Sponsored By:
| | |
| --- | --- |
| You Might Like | |
Advertising: Follow this link for information on reaching the GOPUSA audience.
Missouri Black Caucus Accuses Republicans Of Racism As Crime Bill Passes 109-35
The Legislative Black Caucus accused Missouri House Speaker Dean Plocher, R-St. Louis, and Majority Floor Leader Jonathan Patterson, R-Lees Summit, with racism on Thursday for stopping debate on a crime bill targeting St. Louis.


City Fathers To Chinese Firm's $700M Plan: Nope -- Not On Our Watch!
The leaders of the third-largest city in North Dakota have denied a Chinese company a building permit on land near a sensitive U.S. military installation -- and a former Air Force strategic missile officer couldn't be happier about that.


Today's Edition Sponsored By:
| | |
| --- | --- |
| You Might Like | |
Advertising: Follow this link for information on reaching the GOPUSA audience.
Arizona Border Mayor Says Promised Federal Border Wall Replacing Ducey's Wall Still Not Built
As the shipping containers in the Morelos Dam area of the Yuma sector of the border came down, the mayor of Yuma said that the federal government had been off to a slow start.


Alec Baldwin Facing Gloria Allred Lawsuit From Halyna Hutchins Family Over 'Rust' Shooting
Alec Baldwin is facing another lawsuit over the shooting on the set of his film, "Rust." This one is filed by attorney Gloria Allred on behalf of the parents and sister of cinematographer Halyna Hutchins, who was killed in the accidental gunfire.


'The FBI Is Rotted At Its Core': Republicans Hold First Weaponization Of The Federal Government Hearing
House Republicans on Feb. 9 opened their first hearing of the House Select Subcommittee on the Weaponization of the Federal Government. The committee is under the wing of the important Judiciary Committee, led by Rep. Jim Jordan (R-Ohio).


Today's Edition Sponsored By:
Lawmakers Demand Hunter Biden Hand Over Foreign Business Deal Documents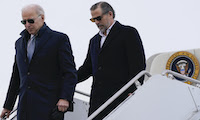 House Oversight Republicans ratcheted up their investigation into Hunter Biden Thursday, calling on the president's son and his associates to hand over documents that allegedly show illicit business dealings.


Angry Joe Biden Stumbles Through State Of The Union
Joe Biden mumbled and stumbled his way through his State of the Union address and showed quite clearly that he is not up to the job. Biden often drifted into his "angry" voice and provided fact checkers with a wealth of "misstatements." Can Biden make it another two years?