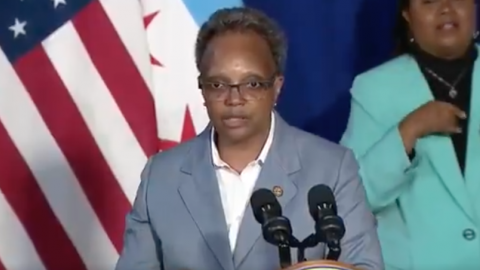 Chicago Mayor Lori Lightfoot must be vying for Queen of Gaslighting. It's the only reasonable explanation for why she tried to tell reporters Tuesday that crime in her city is actually on the decline...
People who love government must be thirsting for what might be called the CensorChip. Such an invention would be inserted into every human brain, allowing Big Tech overlords and freedom-hating politicians to constantly update the chip...
If you needed any further proof of the total infantilizing of America, in which the media pound their fists on the floor like toddlers and the general public are treated like kindergarteners incapable of tying...
Embattled U.S. Olympic hammer thrower Gwen Berry is getting blowback from vilifying America as a nation of so-called "systemic racism." She repeated that claim in a Black News Channel (BNC) interview, and a University of...
Rep. Alexandria Ocasio-Cortez (D- N.Y.) introduced a bill Tuesday that would look at the racial, ethnic, and gender makeup of political appointees, along with several other identity-based factors. In efforts to promote diversity, the Political Appointments...
We need your help in bringing the untold story to the American public.
Help Us Combat Liberal Media Bias:
That's why the Media Research Center exists.
And that's why we need your support!
Connect with us: