FCC Study Sticks out like Soros Thumb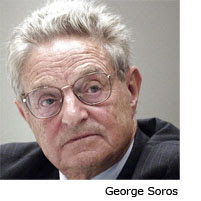 The FCC's newsroom crackdown may have come as a surprise to other Americans -- but not George Soros. The Left's media financier may have had more to do with the
controversial study
than even the Federal Communication Commission initially realized. While conservatives and broadcasters celebrated the announcement that the FCC was throwing in the towel on its pilot program to let the government monitor newsroom content, the story took an interesting twist.
CNSNews.com
and Byron York stumbled on some interesting connections between the universities that devised the unpopular criteria. Both schools had raked in more than $1.8 million from Soros's Open Society Foundations since 2000. Even faculty members had ties with the Left's puppet master, some of whom even wrote for "university publications allied with Soros networks." On the study in question, the collaboration dated back to 2012. Ajit Pai, one of the FCC's five commissioners, was just as surprised by the agency's proposal as anyone. In
his interview
on "Washington Watch," he explained that the government's latest power grab was never even put to an FCC vote.