Friday, September 30, 2016
Submitted by: CITIZENS ACTION
Dear American Patriots,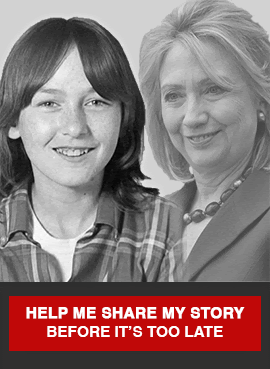 At the age of 12, I was brutally raped and beaten on the side of a road in Arkansas.

Left for dead by a 41-year-old child predator, I remained in a coma for five days.

When I awoke, if found out that the man who did this to me had been caught, but I had no idea that my nightmare was just beginning.

You see, the man who raped and beat me was represented by a young and ambitious Hillary Rodham Clinton.

Hillary, who now claims to be the defender of women and children, volunteered to take the case as a personal favor to the prosecutor.

While everyone has a right to representation, bullying, shaming, smearing, blocking evidence and mentally abusing a child is a level that no moral person should stoop to.