Friday, September 30, 2016
Submitted by: CITIZENS ACTION
Dear American Patriots,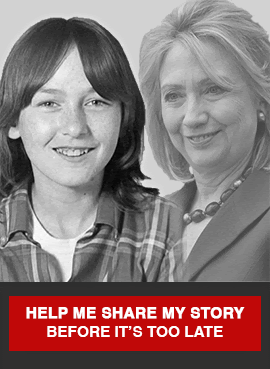 At the age of 12, I was brutally raped and beaten on the side of a road in Arkansas.

Left for dead by a 41-year-old child predator, I remained in a coma for five days.

When I awoke, if found out that the man who did this to me had been caught, but I had no idea that my nightmare was just beginning.

You see, the man who raped and beat me was represented by a young and ambitious Hillary Rodham Clinton.

Hillary, who now claims to be the defender of women and children, volunteered to take the case as a personal favor to the prosecutor.

While everyone has a right to representation, bullying, shaming, smearing, blocking evidence and mentally abusing a child is a level that no moral person should stoop to.
Thursday, September 29, 2016
Bimbo Bingo Pay for Play Off the Tracks !!!
The insult results are off the tracks, unlike the Hoboken train accident
the injury of this continues and is of no accident but that of volition to
do evil. There is no magnitude of degree as to sin, thus is the purity
of Heaven. Yeshua teaches to embrace the sinner and address the sin.
The only hope for evil is to repent and accept the one forgiveness and
sin no more. Hillary should repent and relent her evil process to conquer
America. The path is narrow and well lit by the lampstands of the Lord ...
Maranatha !

2016 NRA-ILA "Firearms Law & The Second Amendment Symposium"
CONTRIBUTOR: common sense.
I recently had a police officer write to me about what they are discovering are the feelings of everyday black people toward whites as well as the police. I removed all the personally identifying information because the police can be so vindictive toward their own. Contrary to the MSM, Most...
.......................................................................................................................
Obama telling refugees: Just vet yourself
You already know Barack Obama is bringing thousands upon thousands of so-called "refugees" into the U.S.

But now, officials have just made an astonishing admission about the lack of screening these people are getting, as they're basically told to vet themselves …
Read the latest now on WND.com.