Remember the outreach Donald Trump did to the black community on the campaign trail last year?
"I'm asking today for the honor of your vote, and the privilege to represent you as your President," Trump said in an October speech in Charlotte, NC. "Here is the promise I make to you: whether you vote for me or not, I will be your greatest champion. I have no special interest, I take no orders from donors or lobbyists – I work for you, and only you."
On the campaign trail, Trump regularly pointed out all the failures of decades of liberal policies and asked black Americans, "What do you have to lose?"
And many black Americans took him up on his offer, giving Trump a higher percentage of their vote than any recent GOP presidential candidate. And it's already paying off for them.
According to a news report over the weekend at Breitbart.com…
"Black unemployment has been on the decline since February – falling from (February) 8.1, March (8.0), April (7.9), and (May) 7.5 percent, according to data from the Bureau of Labor Statistics."
That's the lowest level of black unemployment

in 17 years

!
And the march toward a 57-state re-election sweep in 2020 continues.
Dr. Chuck Muth, PsD
Professor of Psephology (homeschooled)
Nevada's #1 Irritator of Liberals and RINOs
P.S. For some reason, I'm not seeing much of this story on CNN and the other fake news networks…
"Sen. Bernie Sanders and his wife have hired lawyers amid a Justice Department investigation that the Vermont independent might have used his political influence to help Jane Sanders obtain a $10 million loan for the now-defunct Burlington College when she was president." (NewsMax)
P.P.S. In case you're not a golf enthusiast and missed the final round of the Travelers Championship yesterday, Jordan Spieth, after leading the tournament from Day One, ended up tied after 72 holes of regulation play with Daniel Berger.
His tee shot on the first playoff hole he hit a tree. His second shot ended up in a sand trap next to the green. His third shot, from the sand, went in the hole for a birdie and the tournament win!
---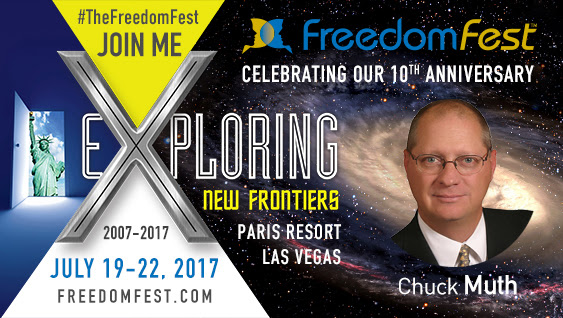 ---
THE ENTREPRENEUR PRESIDENT
"The 'addiction to average' can kill the possibility of making your dreams a reality. Consider the following statistics: The average worker reads an average of less than one book a year and works an average of 37.5 hours per week. This same person makes 319 times less money than the top U.S. CEOs, who claim to read more than 60 books a year. Many of these financially successful executive are maligned for the huge sums of money they receive; however, we often fail to appreciate what these people have done to get where they are today." – Grant Cardone, "The 10X Rule" (2011)
---
---
In my column yesterday about conservative anger over Sen. Dean Heller'sfailure to support the Senate's effort to repeal-and-replace ObamaCare I wrote that "you can't beat somebody with nobody."
But as Las Vegas Review-Journal columnist Steve Sebelius noted in a follow-up email, that's not exactly true. Indeed, "None of the Above" won the Democrat's primary election for Nevada governor in 2014. As such, I humbly stand corrected.
That said, with a thin 52-48 seat majority in the Senate some are saying Republicans can't afford to lose Heller's seat in 2018 and are begging conservatives to call the GOP primary dogs off. Alas, those entreaties are falling on deaf ears, and here's why…
Democrats will be defending 25 Senate seats next year; Republicans only eight. And of those eight, only two are considered vulnerable - including Heller's. On the other hand, there are 10 Democrat seats up in states carried last November by President Donald Trump.
So the thinking goes that if Heller can't be counted on to support the GOP and the White House now, they ain't gonna need him after 2018 anyway. So to "Heck" with him.
Indeed, there's a growing belief that Heller's "Never Trump" position last fall, combined with his historical "No Labels" populist attitude in general, and his opposition to the Senate's ObamaCare repeal-and-replace proposal mean he's "dead candidate walking" in the 2018 general election.
The thinking is that since so many conservatives will "pull a Heller" in the general election and vote for a third-party candidate, vote for "none of the above" or simply not vote in that race at all…why not take a chance on some other Republican candidate who, if elected, would at least have the president's back when it means the most?
Whoever's been advising Heller (Mike Slanker) to keep spitting publicly in the eyes of both the President Trump and his conservative base in Nevada might ought to be sued for political malpractice by this time next year.
Trump political arm to GOP: Get in line

The effort is aimed at both punishing Sen. Dean Heller and at swaying his vote, and it is a stunning act of political retaliation against a member of the president's own party
"For the greater part of a decade the GOP has promised to repeal and replace Obamacare, taken dozens of votes to do so, now, with the ability to keep that promise on the horizon, legislators are wavering. Sen. Heller's decision to walk away is unacceptable and sends the wrong message to the rest of the senators who are still working to get to 'yes.'" – Brian Walsh of America First Policies PAC on its $1 million campaign to get Nevada Sen. Dean Heller back on the reservation and support ObamaCare repeal-and-replace