President-elect Donald Trump
on Thursday
named Kellyanne Conway to the post of counselor to the president. The move makes her the highest-ranking woman in Trump's White House. Conway had been serving as a senior transition adviser after successfully navigating Trump's presidential run as campaign manager. "Kellyanne Conway has been a trusted adviser and strategist who played a crucial role in my victory. She is a tireless and tenacious advocate of ...
Read More
President-elect Donald Trump pressured two of the country's biggest aerospace companies to cut costs on their government contracts, winning a commitment from Boeing to lower the price tag on a new Air Force One but finding the going tougher with Lockheed Martin and the F-35 fighter jet. "It's a little bit of a dance," Mr. Trump reported after meeting with Lockheed CEO Marillyn Hewson, though he predicted he will eventually be successful. "We're going to get the costs down and ...
Read More
Perhaps unsurprisingly, incoming Senate minority leader Chuck Schumer is among the Democrats willing to work with President-elect Trump to pass some of his more "populist" ideas into law. But the tough liberal campaigner issued a blanket statement about cooperating with the new administration. "We're not going to oppose something simply because it has the name Trump on it, but we will certainly not sacrifice our principles just to get something done," he said on ...
Read More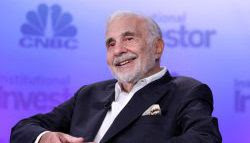 President-elect Donald Trump
Wednesday
named billionaire investor Carl Icahn a special adviser for regulatory reform — a post for which he would not be paid nor would be required to give up any business dealings. "Carl was with me from the beginning — and with his being one of the world's great businessmen, that was something I truly appreciated," Trump said in announcing his choice. "He is not only a brilliant negotiator, but also someone who is innately able to predict the future especially having to do with finances and economies. "His help on the strangling regulations that our country is faced with will be invaluable." ...
Read More