The Sun is Out and Events are Coming. Get Ready for Some Mariachi!
This week has been one of celebration! Our City welcomed Councilman Cedric Crear to our City Council.
We also celebrated the phenomenal job of our own Vegas Golden Knights in their sweep of the Los Angeles Kings in the first round of the playoffs! It's been such an incredible journey. They have been, and continue to be, the epitome of #VegasStrong.
Go Knights, Go!
I'll be at my YMCA office today from

noon to 6pm

for Mondays with Michele.
Join me on

May 1st

for First

Tuesday

at Metro.
https://www.lvmpd.com/en-us/PartnersWithTheCommunity/Pages/1st-

Tuesday

.aspx


Cinco De Mayo is coming! We're having a massive party on May 6th from 4-6pm at Centennial Hills Park! We have Mariachi Sol de Mexico de Jose Hernandez playing, as well as food and beverage (including alcohol w/ proof of ID) available for purchase.
We will be having our Movie in the Park on

May 11 at 7pm

at Centennial Hills Park. This time we'll be watching Coco!
Two nights ago I went to a Deaf event with my daughter, Sheena. It was a screening of an independent film called "Sign Gene." It was written, produced, and directed by a Deaf man named Emilio Insolera, who employed over 150 Deaf people in the making of this film. It's an action film about the first generation of Deaf superheroes. Deaf people played all of the Deaf characters. The movie was great, and it was nice to meet some of our Deaf community here in Las Vegas. This is a link to his trailer: https://www.youtube.com/watch?v=O2MHGVZP-_A
The Las Vegas Aces will be our 1st Women's Basketball Team. They will be here

May 27th

and tickets are on sale. A'ja Wilson was the first pick in the 2018 WNBA draft. She was the national player of the year. Bill Laimbeer, the Head Coach and Aces President of Basketball operations said that she has a desire to be the best player in the world and that they'll work on her game to accomplish her goal.
It was a great pleasure to join our Mayor, Oscar, Councilman Starvos, Scott Adams & Jonathan for the Grand Opening of The Underground, which is a bar built under The Mob Museum with its very own Moonshine distillery and real mobsters. This will be a new favorite of mine for an afterwork drink. Mike Franzese and his beautiful wife, Camille made an appearance. His father, John "Sonny" Franzese was just released from prison at age 100. Check out who Mr. Franzese is here: https://michaelfranzese.com/
I went to Washington DC with the Workforce Connections Board. We were representing Las Vegas, working, learning, and training on how to do greater things in southern Nevada for our people! Cecil, Councilwoman Gerri, Chance, me, Jamie Cruz, Mel, Suzanne & Councilman Scott made up our team for this trip.
City of Las Vegas Shooting team practicing here and we competed in our corporate challenge. Have I said how much I love my job?
Our

March 16th

Easter Egg Hunt was terrific!!! I couldn't count how many families were there. Let's say there were enough people to gather 15,000 eggs off of the ground in under a minute. The adults even hunted. We had special prizes for the kids that were only able to get a couple of eggs. It was a little crazy, but the Easter Bunny was there taking pictures and the line to see him was to the street. There were obstacle courses, bouncy houses, a couple of food trucks, and lots and lots of candy. So many adorable kids, smiling faces, and little ears bouncing around everywhere.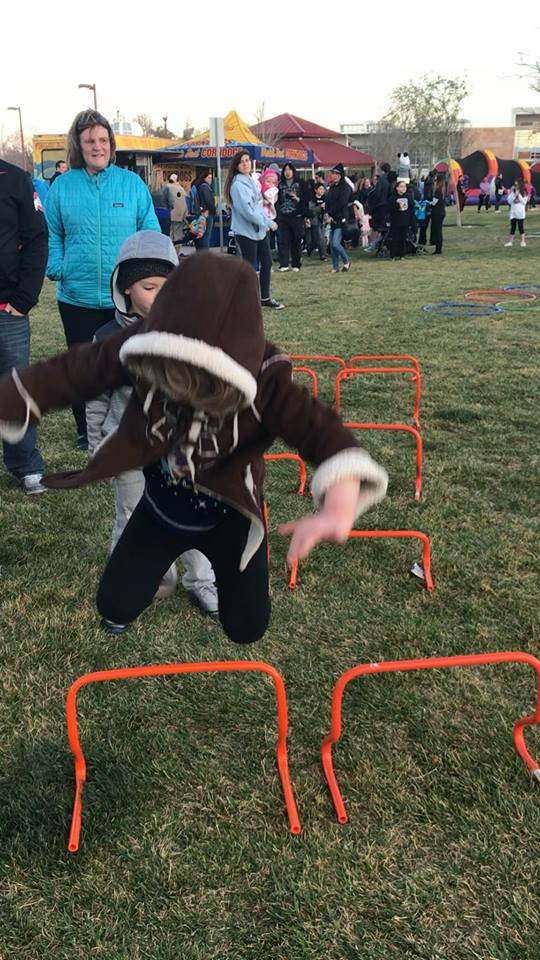 On World Autism Day, I had the pleasure of announcing our new park project that's happening in Ward 6. We're creating a sensory wall aimed to stimulate and excite the minds of children with autism. It's going to be starting in Gilcrease Brothers Park and hopefully begin spreading to other parks in the future.
As part of my role in representing our great city, I have the pleasure of sitting on the Las Vegas Convention and Visitors' Authority Board. Recently, our wonderful Mayor Carolyn G. Goodman presented this board with a proclamation for "Global Meetings Industry Day."
We had a Cub Scouts fishing & camping trip scheduled for the first weekend in April however, all the tent spots in Pahranagat were taken, so we had breakfast, lunch and then fished in Tule Springs. Afterward, we set up camp in my backyard. The night was windy, but it was still great. We had a blast telling spooky stories and roasting s'mores around the fire pit.
Earlier that day at Tule Springs, while my kids were fishing, we had a Foster Connection Easter Egg Hunt! We brought foster siblings back together to see each other for a day of fun. It was great to look at the kids reconnecting with their close loved ones. We donated clothes and toys to Peggy's Attic. There were food and fun activities for all, including a classic car show, horseback rides, and a farmer's market.
My son-in-law David and his co-worker joined us at Metro's First

Tuesday's

meeting with our very own beautiful Captain Sasha Larkin.
We played the new Beauty and the Beast at Movies in the Park this Friday, April 13th. What a great movie! It's nice to see that the director stuck to the original story and it was great to see all the families that showed up.
My grandson Jake met Mayor Goodman. He says he's going to run for president after he's done being a policeman and a firefighter and I support that.
Somerset Academy had a Seeding Day! Somerset Academy - Sky Pointe K-12 Campus planted a beautiful garden to grow fresh fruits and vegetables. Way to teach kids about "seed to plate"! As a society, we need to make sure our kids know life basics. Knowing how to grow and prepare food is vital to health and survival.
One of the new books that I've recently been reading to the kids is Malty the Blue Tiger. It's an excellent book by K. Kloss that is in Spanish and English at the same time. It's great because it encourages early Multilanguage development. My daughter Sheena is currently going to school to become an ASL interpreter but aims to learn Spanish as well to become trilingual, because she has a passion for language and multicultural communication.
Are there any socks more stylish than Trump socks? Someone came into my office with these, and I had to get a picture. They made my day.
Clark County Shooting Complex is hosting a Summer Camp for ages 14-19,
June 11th-15th
. For more details, check out:
http://www.nvfac.org
Recap