Newly disclosed emails show top Obama administration officials were in close contact with Hillary Clinton's nascent presidential campaign in early 2015 about the potential fallout from revelations that the former secretary of state used a private email server. ...
Read More
Grover Norquist thinks it was the IRS that leaked Donald Trump's 1995 tax return to The New York Times. Norquist made the allegation on "The Jamie Weinstein Show" podcast, where the influential head of Americans for Tax Reform also discussed his view of Donald Trump, what he thinks of the #NeverTrump movement, the time he met George Soros and how he would advise an aspiring master of the conservative political universe. ...
Read More
Maybe Bill Clinton should moderate
Sunday's
presidential debate. Referring to Obamacare this week as "the craziest thing in the world," he seems to understand that the consequences of the health care law might be of interest to voters. Indeed, according to a recent Pew Research Center poll, 71 percent of Donald Trump supporters and 77 percent of Hillary Clinton supporters say the issue of health care is "very important" to their vote in 2016. Which is why it seems odd that not one single question dealing with Obamacare was asked at either ...
Read More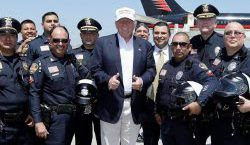 Donald Trump continues to win the confidence of the nation's law enforcement officers — of particular interest to voters in a dangerous age. So far this year, Mr. Trump has been endorsed by the National Fraternal Order of Police, which represents 330,000 officers; the National Border Patrol Council, representing 16,500 Border Patrol agents; and the National Immigration and Customs Enforcement Council, which counts 5,000 federal immigration officers in its ranks. ...
Read More