Submitted by: Conservative 2 Conservative
Posted on June 4, 2016 by Mac Slavo
For years we've warned of the OTM, or Other-Than-Mexican, threat to our southern border. And while suggesting that border security must be reformed during such a politically charged environment has led to accusations of racism for those who support tough border policy and even a wall, the fact is that we now have confirmation from the U.S. government that exactly what we warned would happen has actually happened.
According to the Washington Times, immigration officials have now confirmed that smuggling rings operating from Brazil to Mexico have been moving "migrants" from middle east terror hot beds into the United States via the southern border.
A smuggling network has managed to sneak illegal immigrants from Middle Eastern terrorism hotbeds straight to the doorstep of the U.S., including helping one Afghan who authorities say was part of an attack plot in North America.

Immigration officials have identified at least a dozen Middle Eastern men smuggled into the Western Hemisphere by a Brazilian-based network that connected them with Mexicans who guided them to the U.S. border, according to internal government documents reviewed by The Washington Times.

Those smuggled included Palestinians, Pakistanis and the Afghan man who Homeland Security officials said had family ties to the Taliban and was "involved in a plot to conduct an attack in the U.S. and/or Canada." He is in custody, but The Times is withholding his name at the request of law enforcement to protect investigations.
It appears that those reports were, in fact, accurate, and that credible threats did exist.
But that's not even the half of it. We have repeatedly warned that since terrorists have what amounts to nothing short of unfettered access to America's soft targets because of the Obama administration's lax policies, they could well be smuggling weapons of mass destruction into the United States when they are crossing over.
The most devastating but improbable scenario involves a group stealing a fully functional bomb from a nuclear-armed country. Most nuclear experts point to Pakistan as the likeliest source, though that would require cooperation with someone on the inside of Pakistan's military.

Easier to pull off would be for IS or another group to obtain fissile material like highly enriched uranium, then turn it into a crude nuclear device delivered by truck or ship.

A third possibility is that extremists could bomb an existing nuclear facility, such as the Belgian waste plant, spreading highly radioactive material over a wide area.

The most likely scenario that security experts fear is that a group could get ahold of radioactive material, such as cesium or cobalt, for a dirty bomb that could be carried in a suitcase. Those materials are widely used in industrial, academic and hospital settings, with no consistent security standards across the globe. Last year, an Associated Press investigation revealed multiple attempts by black market smugglers to sell radioactive material to Middle East extremists.
While many Americans continue to either bury their heads in the sand or marginalize those who warn of the possibility of Chemical, Biological, Radiologicial, or Nuclear (CBRN) attacks against domestic targets, the threat is obviously real. We need look only to Europe as evidence. When terrorists attacked Brussels earlier this year we also learned that a nuclear power plant was targeted, with those involved having gone so far as to track and record the director of that plant in the hopes they could compromise its security and cause a regional and devastating nuclear disaster. Further, European officials have already confirmed that CBRN weapons have been smuggled into Europe.
Does anyone think that America is immune?
The Department of Homeland Security (DHS) is quietly transporting illegal immigrants from the Mexican border to Phoenix and releasing them without proper processing or issuing court appearance documents, Border Patrol sources tell Judicial Watch. The government classifies them as Other Than Mexican (OTM) and this week around 35 were transferred 116 miles north from Tucson to a Phoenix bus station where they went their separate way. Judicial Watch was present when one of the white vans carrying a group of OTMs arrived at the Phoenix Greyhound station on Buckeye Road.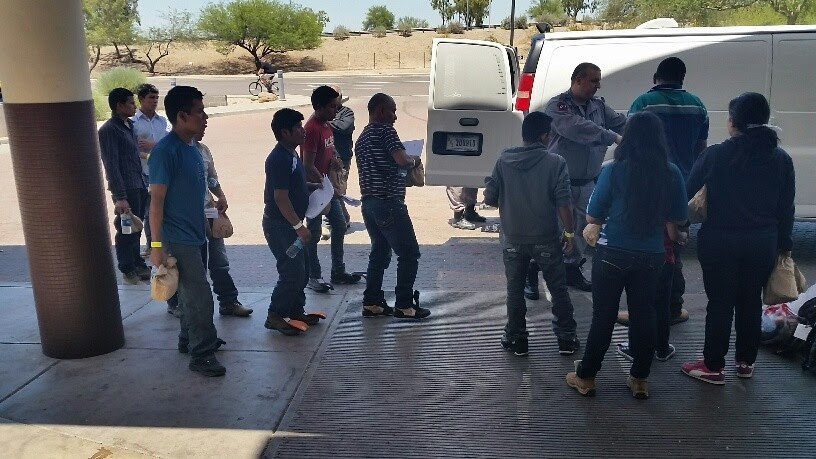 The OTMs are from Honduras, Colombia, El Salvador and Guatemala and Border Patrol officials say this week's batch was in custody for a couple of days and ordered to call family members in the U.S. so they could purchase a bus ticket for their upcoming trip from Phoenix. Authorities didn't bother checking the identity of the U.S. relatives or if they're in the country legally, according to a Border Patrol official directly involved in the matter. American taxpayers pick up the fare for those who claim to have a "credible fear," Border Patrol sources told JW. None of the OTMs were issued official court appearance documents, but were told to "promise" they'd show up for a hearing when notified, said federal agents with firsthand knowledge of the operation.
A security company contracted by the U.S. government is driving the OTMs from the Border Patrol's Tucson Sector where they were in custody to Phoenix, sources said. The firm is called G4S and claims to be the world's leading security solutions group with operations in more than 100 countries and 610,000 employees. G4S has more than 50,000 employees in the U.S. and its domestic headquarters is in Jupiter, Florida. Judicial Watch is filing a number of public records requests to get more information involving the arrangement between G4S and the government, specifically the transport of illegal immigrants from the Mexican border to other parts of the country. The photo accompanying this story shows the uniformed G4S guard that transported the OTMs this week from Tucson to Phoenix.
Outraged Border Patrol agents and supervisors on the front lines say illegal immigrants are being released in droves because there's no room to keep them in detention. "They're telling us to put them on a bus and let them go," said one law enforcement official in Arizona. "Just move those bodies across the country." Officially, DHS denies this is occurring and in fact earlier this year U.S. Customs and Border Protection Commissioner R. Gil Kerlikowske blasted Border Patrol union officials for denouncing this dangerous catch-and-release policy. Kerlikowske's scolding came in response to the congressional testimony of Bandon Judd, chief of the National Border Patrol Council, the labor union that represents line agents. Judd told lawmakers on the House Judiciary Committee that illegal immigrants without serious criminal convictions can be released immediately and disappear into the shadows. Kerlikowske shot back, telling a separate congressional committee: "I would not stand by if the Border Patrol was — releasing people without going through all of the formalities."
Yet, that's exactly what's occurring. This report, part of an ongoing Judicial Watch investigation into the security risks along the southern border, features only a snippet of a much broader crisis in which illegal aliens are being released and vanishing into unsuspecting American communities. The Senate Subcommittee on Immigration and the National Interest addressed this issue just a few weeks ago in a hearing called Declining Deportations and Increasing Criminal Alien Releases – The... Judd, the Border Patrol Union chief, delivered alarming figures at the hearing. He estimated that about 80% of apprehended illegal immigrants are released into the United States. This includes unaccompanied minors who are escorted to their final destination, family units and those who claim to have a credible fear of persecution in their native country. Single males that aren't actually seen crossing into the U.S. by Border Patrol agents are released if they claim to have been in the country since 2014, Judd added.
Whistleblowers – Fast And Furious US Still Running Missiles To ISIS Thru Mexico
Alex Jones has Marine Corps Colonel Matt Smith-Meck and Robert Tosh Plumlee; both extremely credible whistleblowers who are trying to make Congress or anyone else in a responsible position listen to them, that Fast and Furious was and still remains much more than just gun running out of private gun stores. That's the cover story. Now military weaponry, including laser-guided munitions and Stinger missiles from the Hawthorne, NV munitions depot. [

12:23

video] The ultimate destination for the weapons once their path was obscured and laundered by way of Mexico was the ISIS arsenals.
As much as we want to disbelieve our ears, that is what these two gentlemen are saying. Our corrupt hijacked government is engaging in the support of terrorists who are targeting us and the rest of the free world. No wonder Hussein Obama doesn't want to bomb ISIS and runs only a most rudimentary, strategically inept campaign against them. It took a lot of work for him and John Kerry to provide them with those weapons. The last thing they want to do is blow them up.
Plumlee identifies what we're facing, saying "This is an international crime syndicate and an international gun running operation." He notes that the applications for the weapons to leave the country were approved by the State Department. They were delivered to the Mexican army who allowed a percentage to go to Mexican drug cartels.
Colonel Smith-Meck describes an incident in September of 2013 in which the House Oversight and Reform Committee was advised that grenades and grenade launchers were part of the shipments going south into Mexico but nothing was done and the information wasn't passed on until October of 2014, well after it was of no actionable value.
Plumlee asserts that all of these subversive actions are known to the CIA through their COG programs, their SAPs which he's "not supposed to talk about" and their fusion centers which he says he's "not supposed to know about." They all have the information and refuse to act upon it.
Plumlee warns the perpetrators that he and the Colonel will be coming to photograph an upcoming weapons running shipment in the upcoming week and they will be providing the evidence to Congress in the hope that they might finally act. He says he's not a conspiracy theorist, he's a realist who wants his country back."