Dear

Conservatives

,

This week has been historic for Project Veritas and, frankly, the entire country.

Maybe even the world.

On Wednesday night, we released a video of a Pfizer Director who told one of our journalists about his company's plan to "mutate" the COVID virus via "Directed Evolution" to preemptively build vaccines.

As it stands right now, that video has ALMOST 20 MILLION VIEWS ON TWITTER ALONE.
The video has also been trending on Twitter for the last 48 hours: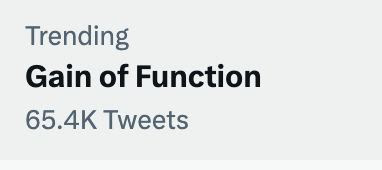 Not only did the original video become the most watched video in Project Veritas history, but we also released another video wherein I attempted to interview the Pfizer Director.
That video, on Twitter alone, has AROUND 10 MILLION VIEWS.
Although the Corporate Media tried its best to ignore this story, Fox News' Tucker Carlson did the most incredible segment I've ever seen on TV to date.
You can watch what Tucker said about the Pfizer #DirectedEvolution tapes by CLICKING HERE.
Washington, D.C. politicians are paying attention to the developments of this Veritas investigation, too.
Florida Senator, Marco Rubio, wrote a letter to Pfizer CEO, Albert Bourla, asking him for answers on what was shown in the video.
You can read Senator Rubio's letter by CLICKING HERE.
Several other U.S. Senators and members of the U.S. House of Representatives also reacted:
If you work inside a corrupt Big Pharma corporation and have information that the public deserves to know about, please contact VeritasTips@protonmail.com
Our tip line is open 24/7 – all day every day.
Be Brave,
James