D
ear Conservatives,

Jobs, jobs, jobs. We hear it every day.

But the Obama Labor Board's outrageous attack on Boeing shows how little the union bosses and their political allies really care about jobs -- unless they can force workers to pay union dues or "fees."

In a recent interview with the Fox Business Network's Gerri Willis, I demonstrated that Right to Work laws help create jobs and spur investment -- like Boeing's decision to create thousands of new jobs in South Carolina.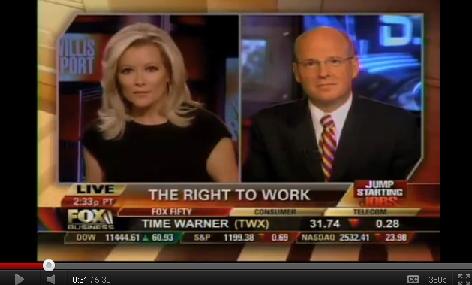 Instead, the union bosses are "grabbing the golden goose and squeezing that last final golden egg out" by scheming to eliminate nonunion private-sector jobs and lobbying for bigger government so they can corral more government workers into dues-paying ranks.

Watch the full interview by clicking here or on the image above.

Sincerely,



Mark Mix

P.S. The Foundation relies completely on voluntary contributions from its supporters to provide free legal aid.

If you can, please chip in with a tax-deductible contribution of $10 or more today to support the Foundation's programs
.
---